I have now registered at Traden.de and am now trading with a BullPower template . This allows me to use numerous trading tools at Trade Republic.
Who is Trade Republic?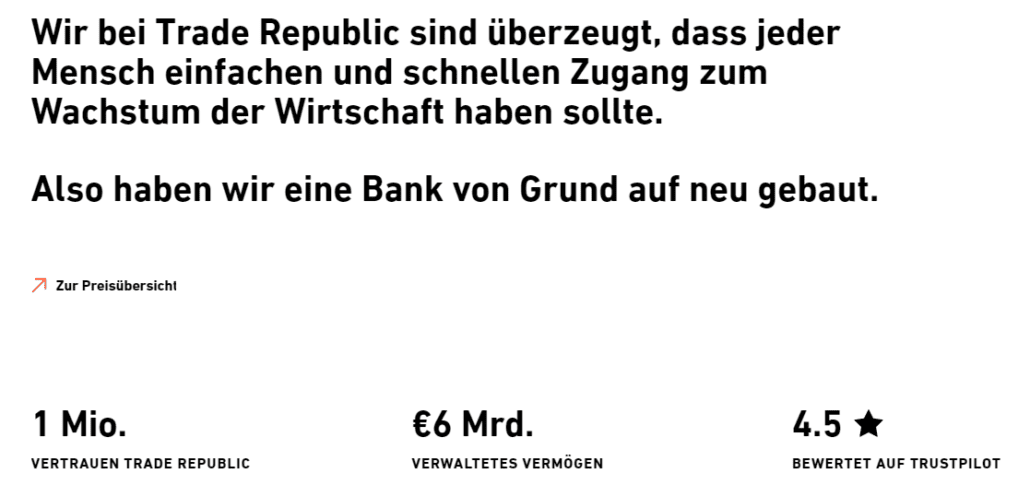 Trade Republic Bank GmbH is a German online broker that was founded in 2015 and is based in Düsseldorf. As a credit institution, the company offers its customers the opportunity to trade cryptocurrencies and listed securities. Initially only in the form of an app and since October 2021 also via the browser.
Trade Republic experiences: The most important things in brief
Wide range of securities available: Clients can invest in over 9,000 ETFs and stocks
Trade Republic App users do not pay a deposit fee
1,500+ free ETF savings plans from iShares
No negative interest is charged on the clearing account
The trading app offers a high level of user-friendliness
Easy registration
The securities bank is supervised by the Federal Financial Supervisory Authority (BaFin).
What exactly is Trade Republic?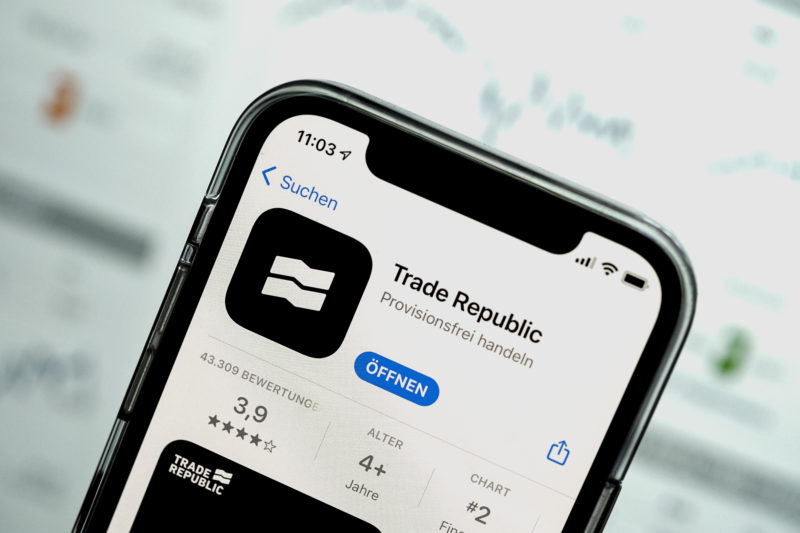 Trade Republic is a young online broker that offers you the opportunity to trade both on mobile devices (smartphone and tablet PC) and on the desktop PC. Trade Republic experiences have shown that you can trade securities for as little as EUR 1. You can actively invest and choose from a wide range of ETF savings plans, all of which are free. This means that Trade Republic is not only limited to pure trading , but is also an interesting contact point for passive investors. The Trade Republic experience makes it clear: It is the first mobile and commission-free broker in Germany. The unique selling points of the provider also emerge from the Trade Republic experience :
High user friendliness
Attractive fee structure
Trade Republic experiences: the offer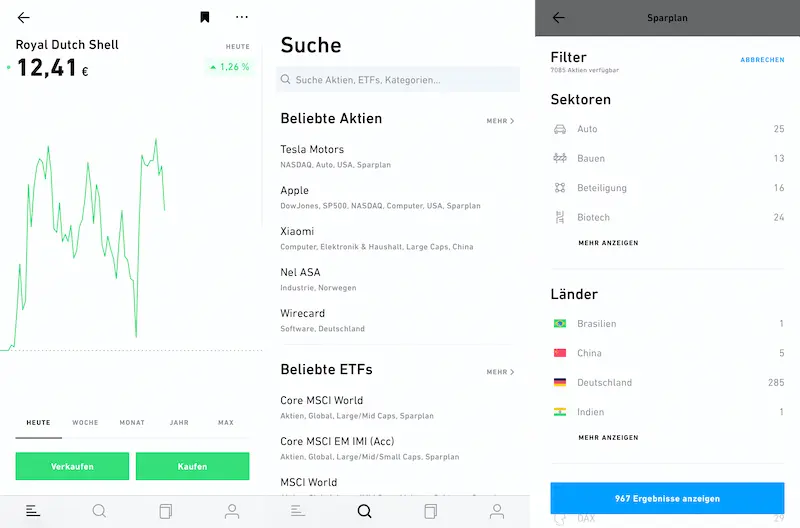 The broker offers its customers an app that runs on both the iOS and Android operating systems and can therefore be downloaded free of charge in both stores. For only 1 EUR you get the opportunity to trade stocks, ETFS and derivatives on the go. Experience with the online broker has shown that since November 2019 you can even choose from 1,504 ETF savings plans to save on permanently free of charge from a monthly savings rate of EUR 25. This means that you can also invest passively at Trade Republic. As of August 2021, Trade Republic's product portfolio looks like this:
9,000 stocks and ETFs
1,504 of them ETF as savings plans
300,000 warrants, factor certificates and knock-out products
The ETFs come from iShares, the subsidiary of BlackRock, and other providers:
amundi
WisdomTree
Lyxor
Xtrackers
Trade Republic experiences show that between 7:30 a.m. and 11:00 p.m. you have the opportunity to trade via Lang & Schwarz, an over-the-counter trading venue. From 8:00 a.m. to 10:00 p.m. you can practice your over-the-counter trading via HSBC Germany. Spreads are linked to the Xetra reference market during the exchange's trading hours. Trade Republic's experience shows that the trading range outside of Xetra's opening hours can be somewhat larger. Therefore, make sure that you are active during Xetra trading hours to buy and sell at Trade Republic. Trade Republic's experiences have shown that it makes sense to avoid evening trading and also to do without it shortly before the start of the stock exchange.
Trade Republic experiences: The range of ETF savings plans

Various ETFs are offered for sale at Trade Republic. Strictly speaking, there are 1,504 ETFs that you can currently save free of charge. You can view all ETFs that are suitable for saving by clicking on the "Create savings plan" button. Then you simply scroll through the list in the app and filter for the different categories if necessary.
The ETFs primarily come from the two providers WisdomTree and iShares. WisdomTree is an American wealth manager, which can be found in the list of the top 10 there due to its size. With this provider you will find numerous "gambler" ETFs with leveraged versions or in the short version. The provider also pays a lot of attention to raw materials. BlackRock is the largest wealth manager in the world. Together with the subsidiary iShares, it covers almost 50 percent of the ETF market share. As the largest provider of ETFs, it's no wonder that iShares makes up a large part of Trade Republic's ETF savings plans. Almost the entire range of "iShares Core" products is available here. Most of these can be saved free of charge as ETFs. The Trade Republic experience has shown that the iShares Core MSCI EM and the iShares Core MSCI World are quickly discovered for private investors who want to map large indices.
Trade Republic experiences: the trading conditions
No matter what form of securities, according to Trade Republic's experience, the trading conditions are impressive. The cheap trade ensures that very active traders in particular save at Trade Republic compared to other online brokers.
Trade Republic experiences: share and ETF conditions
If you have decided to trade ETFs and stocks, there is only a flat rate for third-party costs per trade. This is 1 EUR. The provider requires no other commissions. Regardless of which of the 9,000 ETFs and stocks you choose and to what extent you act. The price is always limited to 1 EUR for the trade. The payment of dividends and other income is now also free, as can be seen from the Trade Republic experience. This is also the case when booking foreign dividends. At the time the provider entered the market, a fee of EUR 5 was charged for a distribution amount of EUR 15 or more. In the app settings you can choose whether you want to register your German registered shares. However, there is a fee of EUR 2 for this. If you want to register a general meeting, you have to reckon with costs of 25 EUR, as Republic Trade experiences have shown. Many other providers are ahead of the curve here, since this service is already included with them. The purchase and sale of the securities are processed via "LS Exchange" (Lang & Schwarz), an electronic trading system operated at the Hamburg Stock Exchange.
Trade Republic: ETF savings plan conditions
If you want to invest in an ETF savings plan with Trade Republic, there are no fees. According to Trade Republic's experience, even the third-party fee of EUR 1 is eliminated. In connection with the free custody account management, this is of particular interest to passive investors. The savings plan rate per ETF savings plan purchase is at least EUR 25 and a maximum of EUR 5,000. This applies to each execution, although Trade Republic's experience has shown that you are free to decide whether your ETF purchase should be executed quarterly, once or twice a month. If you decide to invest once a month, you can invest either at the beginning of the month or from the 16th of the month. Trade Republic's experience has shown that neither the interval nor the amount of the monthly savings rate affect the cost structure of the ETF savings plans.
Trade Republic experiences: conditions of other securities
If you want to trade other securities, such as derivatives, Trade Republic only charges you the third-party fee of EUR 1 per trade. No order commission is charged for the purchase and sale of factor certificates, knock-out products and warrants. Under certain circumstances, third-party expenses may be added. However, these only relate to the trading of GDRs and ADRs. This means depositary receipts for foreign shares. In contrast to stock and ETF trading, Trade Republic handles its derivatives trading over-the-counter via HSBC Germany.
Trade Republic experiences: the costs at a glance
Trade Republic presents its costs very clearly. In the list of prices and services, all fees easily fit on one page in order to be presented clearly and understandably.
trading and settlement
Order commission (including, for example, stop-loss orders): free of charge
Buying/selling securities: 1 EUR
Deposit and clearing account
Management of the clearing account: free of charge
Custody account management: free of charge
Transfer to the reference account: free of charge
documents and security
Tax certificate pa: free
Deposit and account statement: free of charge
Reset via VideoIdent: 5 EUR
Other costs
Participation in the general meeting: 25 EUR
In addition to the fees listed in the table, Trade Republic's list of prices and services also includes other cost items that you, as a forward-looking and prudent investor, will very likely not come into contact with if you decide to use the app. These additional costs include, for example, the fees for postal orders or the voluntary issuance of documents.
Trade Republic experiences: Open a depot
Within just 10 minutes you have opened your personal user account in the trading app. Trade Republic's experiences have shown that registration is possible on smartphones, tablet PCs, desktop PCs and notebooks. You decide for yourself which playback device you want to use the Trade Republic service with later after registration. Based on the Trade Republic experience, it can be clearly seen that the registration for all variants can be implemented quickly and easily. If you want to use your smartphone to register, you must first download the app from the respective store. If you have an iPhone then you can get the trading app from the App Store and if you are using the Android operating system then you can get the app from the Google Play Store. As soon as the download is complete and the app is installed on your smartphone, follow these four steps to create your personal account at Trade Republic:
user account
Personal data
identification
experiences and knowledge
Trade Republic experience has shown that opening an account in the trading app works as follows: First you enter your cell phone number and then set a PIN, which is always used for your personal account with Trade Republic. With this you create your profile and then have the opportunity to enter your personal data. This includes:
First and Last Name
E-mail address
residential address
Date and place of birth
nationality
In the first step you will be asked whether you are liable for tax. This is a prerequisite for opening the depot. This is only possible for persons resident and taxable in Germany. In the second step you enter the IBAN, which is linked to your current account. This is used for all payouts. Your checking account is your so-called reference account, which is connected to your separate clearing account that you have just created at Trade Republic. The third step is your identification. The provider uses the VideoIdent procedure to register you as a new member. A short video chat is conducted for this purpose, which only lasts a few minutes. Have your identity card or passport ready beforehand, as you have to hold one of the two documents up to the camera to identify yourself. The fourth step is to fill out the securities trading form, specifying your knowledge of the different financial products. Now all you have to do is tick a few boxes to declare your consent to Trade Republic. This includes the following parameters, which must be confirmed:
Privacy Information
customer agreement
List of prices and services
Collective Escrow Agreement
Private use/acting on own account
Opening your account takes less than 10 minutes and allows you to start at Trade Republic in record time. You will be assigned an IBAN for your depot, which will be displayed to you immediately after you have registered. You need this for transactions. You can now copy this to your reference account for the first transfer and for your online banking in general.
This is how the depot transfer works
If you have decided on a Trade Republic alternative, you can also transfer your securities. Only a few steps are required to transfer the securities to the Trade Republic Alternative. To do this, first call up the settings in the app. From there, click the "Other Services" button. There you have the opportunity to download and fill out the form for the deposit transfer to the Trade Republic Alternative. The other way around, you can of course also transfer your securities from the Trade Republic Alternative to the Trade Republic trading app. To do this, go to the personal area of your Trade Republic Alternative to download, print out and fill out the transfer form for the securities account transfer. Once this has been done, you send it signed by hand to Trade Republic Alternative.
The Trade Republic App at a glance
All in all, the Trade Republic trading app is very straightforward. On the start page you will find the watch list and all other important information. Your previous investments are also summarized there. Use the search function with the small magnifying glass to find specific securities or ETFs that you want to save and use as a free savings plan. Alternatively, you can start the search via the Order Manager.
The Order Manager also shows you all orders that are still pending. The Order Manager can be compared to the Trade Republic Alternative order book, as many other brokers have chosen this designation. This is an app module, which is presented very simply as a book. Right next to it, your personal profile is displayed, which shows the following parameters:
Bank balance
link to payout
settings
If you click on the gear icon, your personal data will be displayed. This includes, for example, your deposit number or your deposit and withdrawal account.
In this area you have the option of storing your tax ID. You can also set up an exemption order:
Up to EUR 801 for singles
Up to EUR 1,602 for married couples
You can also view your annual tax statement here. You can contact support at the top right. You can also use the chat below your tax data when you are in the "Services" area. And if you want to get a good overview of all your purchased securities, it is best to use the "Overview" button.
Trade Republic experiences: buying securities and setting up a savings plan
At Trade Republic you can buy securities or set up a savings plan in just a few steps. Three clicks are enough to invest in shares, ETF savings plans, derivatives or ETFs. Trade Republic's experience has shown that it is better to trade during Xetra's opening hours. As an investor in Germany, you benefit from the fact that over-the-counter trading platforms such as Lang & Schwarz are required by law to provide stock prices during trading hours. This means that customers must not be made worse off. The trading spread between the bid and ask price increases outside of stock exchange trading hours (9:00 a.m. to 5:30 p.m.). Then it can happen that you as an investor have to pay extra.
Buy securities at Trade Republic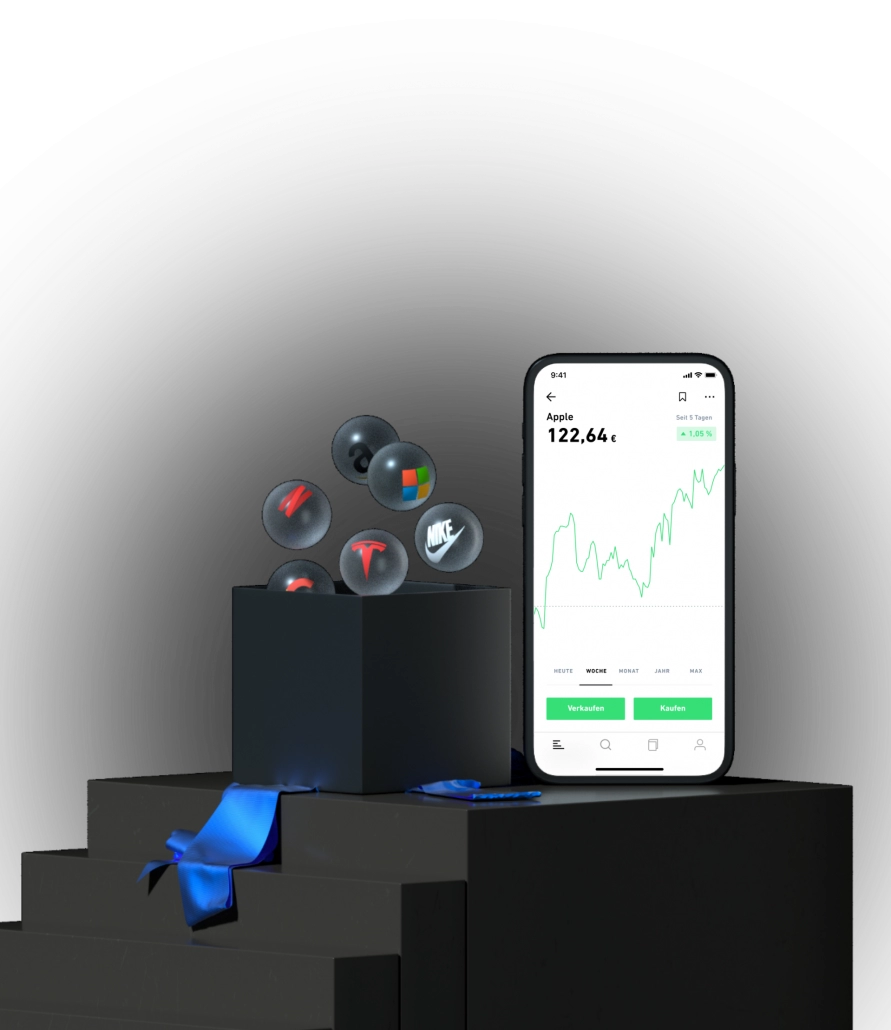 Trade Republic's experience shows that you can buy ETFs as a one-off investment as follows: YOU use the magnifying glass to search for the securities you want. For example, if you want it to be an MSCI World, then you enter exactly that name in the search field of the Trade Republic trading app. Trade Republic experiences have shown that the broker then shows you all available MSCI World ETFs. To get more information, such as the course history, click on the respective product. If you want to know which supplier the product is from, you must first scroll down and click the "Buy" button. Then enter the number of shares you want to buy. The current price is displayed to you at all times, which is why you have the option of calculating the number of shares that need to be bought in order to invest the capital. Now tap on the blue circle with the white arrow and the order overview will be displayed. You will now see the following data:
Number of Security Shares
product
market price
total
You confirm the purchase by clicking on the "buy now" button. Parallel to the purchase of the securities, you instruct Trade Republic to place your order. As soon as this has been carried out, you will immediately receive the notification.
Set up an ETF savings plan with Trade Republic
In the course of the Trade Republic experience, it turned out that you create your ETF savings plan by also taking just a few steps. You can also use the magnifying glass here to search for your preferred ETFs. Alternatively, you can click on the book next to it, which will take you to the Order Manager. Use the input mask there so that you can set up your free ETF savings plan. You can also see potential open orders here. Now you click on the "Create savings plan" button to have Trade Republic present you with a long list that you scroll through. If you already know which ETFs should be saved, you can display the results in the search. Otherwise, just use the filters to categorize by region, indices, or sector. Click on the product you have chosen and click on the "Create savings plan" button.
Now you specify an interval. Choose between monthly, twice monthly or quarterly execution. Trade Republic experiences show that you can now enter the amount and view a summary. You confirm the setup of this savings plan with Trade Republic with the button "Create savings plan now for a fee".
Trade Republic Experiences: Set up Stop Loss
The functionality of Trade Republic was expanded in July 2019 with a function: "Stop Loss Order". With the Stop Loss Order, you can automatically start the process of selling securities as soon as a lower price limit, which you have previously set, is reached. Trade Republic's experience has shown that you have the option in advance of specifying the rate at which the provider should sell for you. This feature is intended to protect you from losses. You can place your stop loss order as follows:
You first select your security for which a stop loss should be placed. Now click the "Sell" button. Then click on the market price. To configure your automated sales preference.
Trade Republic Awards:
When the Berlin fintech started, the business model caused a stir. Since the Neo Broker charges a flat fee for third-party costs for each order, many investors are looking for a Trade Republic alternative.
Which providers are competitors for Trade Republic? Trade Republic Alternative Pepperstone
When looking for a suitable alternative to Trade Republic, it can definitely be worth thinking outside the box. This is proven by the Australian provider Pepperstone, which is based in Australia and thus offers its services from the other end of the world. The broker has fully focused on trading on favorable terms. Spreads are possible here from as little as 0.0 points. In addition to 60 currency pairs, you have the opportunity to speculate with more than 750 stocks, cryptocurrencies and CFDs. For the minimum deposit, however, an amount of 250 EUR is due. You can trade safely on various trading platforms as the company is supervised by BaFin. To try it out first, you can use Pepperstone's free demo account. However, you can only use customer support in English.
Trade Republic Alternative: Scalable Capital
This Trade Republic alternative has been available since 2016. The digital asset manager comes from Bavaria, specializes in the ETF portfolio and shines with its figures: the product portfolio includes 1,900 ETFs, around 6,000 shares, more than 375,000 derivatives and over 2,000 funds. It is a Trade Republic alternative, since trading is carried out at a flat rate. There is a monthly fee of EUR 2.90, which means that all trades and savings plans are free of charge.
Trade Republic Alternative: Scalable Capital
This Trade Republic alternative has been on the market since 2019. This is a service that resulted from the Sutor Bank. More than 1,500 ETFs and ETCs, as well as over 6,000 stocks ensure a comprehensive selection. However, trading with this Trade Republic alternative is only practiced on two trading places: Quotrix and Exchange. Four over-the-counter trading partners are added: Société Générale, Citi, UBS and Vontobel. In addition to securities, cryptocurrencies such as Bitcoin, Ripple and Ethereum can also be traded with this Trade Republic alternative.
Trade Republic Alternative: Etoro
In 2007, the Israeli Trade Republic Alternative Etoro was founded. As can be seen from the Trade Republic experience, this provider differs in one important respect: the focus here is on social trading. This means that users can see what other users are up to. As an investor, you get a pretty accurate insight into which trades other users are executing. The provider Etoro gives you the opportunity to follow other investors and do exactly what they do by copying their investment strategies. With so-called copy trading, Etoro is a genuine Trade Republic alternative. The Trade Republic experience has shown that you can also use CFDs with Etoro. This abbreviation stands for "Contracts for Difference". This means that as a trader you are not involved in a company, as is the case with stocks, but are the owner of a claim.
Exception for foreign providers
With this Trade Republic alternative, investors can invest in 1,000 shares without commission. Fees are only charged for the spread. The provider also charges a transfer fee for cryptocurrencies. If you want to pay out credit, this must be at least 50 EUR. If the payout is less than that, you'll have to settle for a $5 fee. There is also a fee because the balance has to be converted into US currency. A fee will also apply if there is credit in your account but you have not been logged in for more than 12 months. Then you will be charged $10 for inactivity. The Trade Republic experience has shown that Etoro, in contrast to Trade Republic and other providers, is the only one based abroad.
Trade Republic Alternative: Smartbroker
This is a company from Berlin, which has only been on the market since the end of 2019. The provider is perfectly tailored to beginners and professionals. The statutory deposit insurance protects the accounts of investors up to a sum of EUR 100,000. The Berliners waive depot fees, but charge a flat rate of 4 EUR for each order. Trading itself is carried out via the Gettex electronic stock exchange and is free of charge. However, only under the premise that the order volume exceeds EUR 500. The broker works with 15 over-the-counter trading partners. You have the opportunity to trade all securities there. The company focuses on:
ETFs
fund
bonds
certificates
warrants
Reverse Convertibles
However, caution is advised with the cash ratio. Smartbroker does not require a minimum order volume for warrants and certificates. The product portfolio consists of 600 ETF savings plans, with 0.2 percent being due per savings plan execution, as Trade Republic experiences have shown.
Day Trading Alternative: Trade Pepperstone with the BullPower Template
The template is a compilation of the greatest indicators for traders, designed by leading trading experts and programmed by Traden.de.
Chart analysis with intelligent functions
Perform precise chart analysis instantly. The template includes the most relevant indicators for the best chart analysis, with customizable settings for your individual trading strategy.
By registering with Pepperstone via Traden.de you will receive free updates and support for the template.
We are happy to help you with questions about installation and use. With the broker registration you also get access to the internal area of the BullPower Trading Forum .
Our motto is: achieve more together! In the trading forum we help each other and talk about trading ideas, analyzes and current price developments.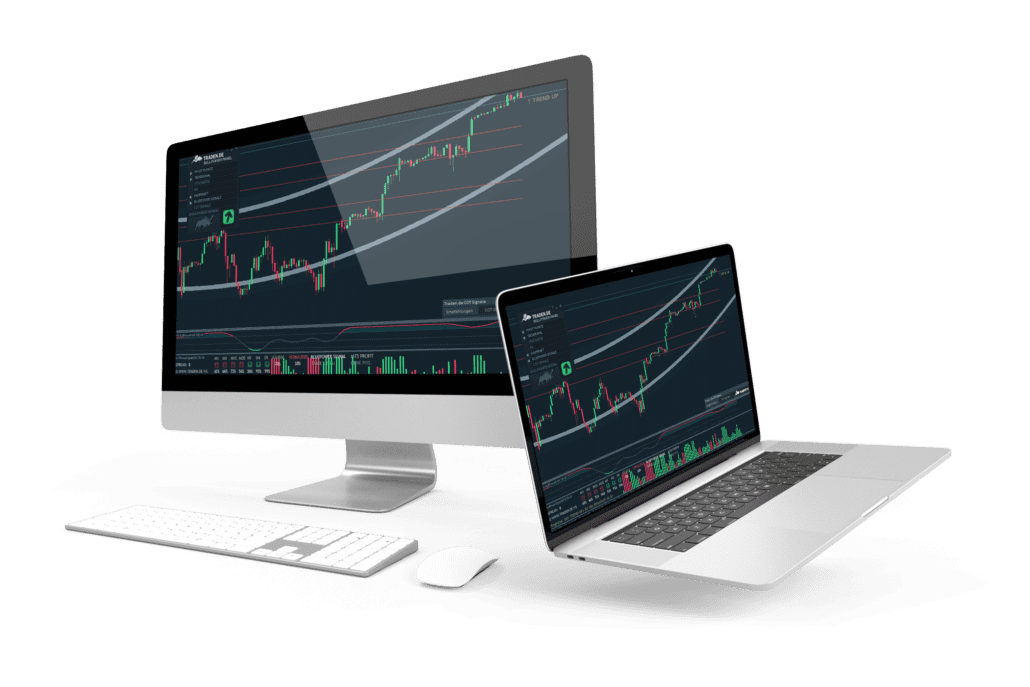 Are you interested? Then open a customer account at Pepperstone now and receive the Traden.de BullPower Template 2022 free of charge.


Pepperstone has a German-language website and German-language customer support. The broker is reputable and based in Germany. I have had positive Pepperstone experiences and am impressed by the low fees at Pepperstone Broker. The broker is reputable and easy to trade with templates. With the MetaTrader 5 trading platform, the forex broker is popular with Traden.de.
https://www.traden.com/wp-content/uploads/2022/02/app_vorschau_2.jpg
533
800
bullboss
https://www.traden.com/wp-content/uploads/2022/06/traden_com_logo_dunkel.png
bullboss
2022-02-04 12:00:00
2022-05-17 21:10:19
Trade Republic App Reviews (2022) » Trading with a template